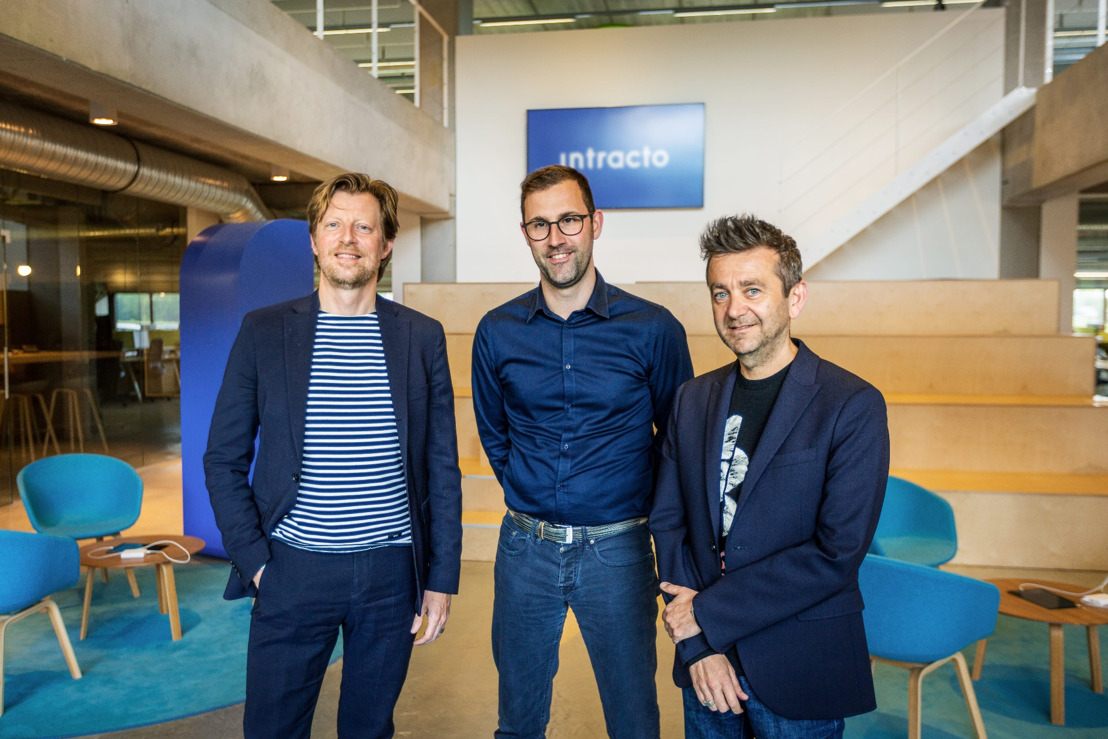 A remarkable Digital alliance: Intracto Group & Prophets take a leap forward together
While all Belgians are currently hopefully looking forward to a new coalition government, a remarkable alliance between a number of leading players is also emerging in the digital office world.
Since the beginning of this year, the Intracto Group has been rapidly developing a digital full-service group with acquisitions in the fields of technology, marketing, content, creation and strategy.
Today, the Intracto Group and Prophets announce that from now on they will work together towards a clear ambition: to become the leading digital-first full service group in our market.
By adding Prophets as a strategic-creative spearhead, the Intracto Group positions itself as a leading player with over 420 team members. Prophets' presence in Antwerp and Brussels offers the group direct access to two of the most central cities in the country.
Björn Joos of Prophets explains: 'Several international players aiming to gain a foothold in Belgium have approached us in recent years. We chose to join this particular innovative venture, because we are convinced that the market is ready for a true full-service communication agency that allows technology, strategy and creation to go hand in hand.'
Co-founder Tom Willemkens continues: 'Pieter's steady journey with Intracto over the past 13 years has been a remarkable one. We are united by the same no-nonsense attitude, which will undoubtedly prove useful in the future as well. This well-considered step offers additional opportunities to the entire team and to all our customers, who now have access to a wider range of technological and marketing talent.'
Firm supporter
​This ambitious acceleration is actively supported by Waterland, which has guaranteed the necessary strategic and financial support for this remarkable growth story.
Cédric Van Cauwenberghe, Managing Partner at Waterland explains: 'In our opinion, the agency of the future has long since passed the stage of 360° campaigning. It now revolves around a permanent, truly full-service approach that provides creative and strategic excellence as well as diversified technological development and delivery capacity. The combination of Prophets and Intracto Group can create this kind of leadership in Belgium and abroad.'
Groundbreaking
​The Intracto Group's field of action does not stop at Belgium's national borders. Intracto's presence in the Netherlands and its further planned acquisitions are clear signs of its future territorial expansion.
Pieter Janssens, CEO of the Intracto Group: 'The newly combined group aims to bring together the necessary current and future talent to provide the right response to companies' digital challenges. Prophets brings in the necessary strategic and creative talent to realise our ambitions.'
---
About Prophets
Prophets is a reputed full service marketing and communications agency with a strong digital DNA that was founded in 2004. With a team of over 60 creative marketers, the agency helps leading brands shape the journey of their customers. The Prophets Antwerp and Brussels offices work for Audi, Proximus, Barco, Sodexo, Q8, Crelan, DKV, Partena, SEAT, Port Of Antwerp, Tourism Flanders, the European Commission, Federal-Mogul, Securitas, and many others.
About Intracto Group
Intracto Group is an innovative digital services group in the Benelux that is positioned at the intersection of strategy, creation, marketing and technology. The company has offices in Herentals (BE), Antwerp (BE), Mechelen (BE), 's-Hertogenbosch (NL), Tilburg (NL), Gorinchem (NL), Breda (NL) and Utrecht (NL).
Intracto helps to develop the business of national and international clients such as Knauf Insulation, Akzo Nobel, Canon, Alphabet, Michelin, Brussels Airport, Manna, Quick-Step, Torfs, Media Markt and Kom Op Tegen Kanker. The company was founded in 2005 and employs more than 360 experts.
All-round agency Luon, marketing automation agencies Raak & Adagio and content agency Snackbytes also belong to the group. ezCompany recently joined the group in the Netherlands.
Intracto was awarded a Belgian Trends Gazelle award in the SME category in 2019.