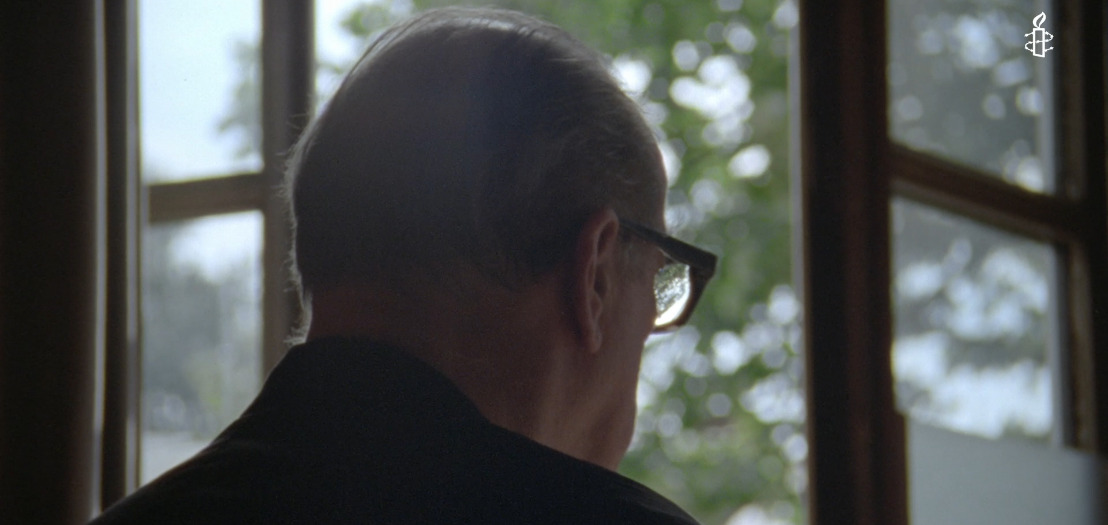 Amnesty's human rights protected by Prophets
Every year public service broadcaster VRT organises a competition within the scope of Boodschappen van Algemeen Nut (Messages of Public Interest). Prophets has snagged this broadcast time for Amnesty International with a wonderful diptych on human rights.
We can't be reminded enough of the importance of human rights. Human rights reflect life's basic necessities. Yet sometimes it seems we forget this, in these current times when many of our liberties and human rights are under pressure.
That is why Prophets uses a cinematographic diptych to create a link with a right we are all familiar with: copyright. Texts, books, songs, ... can't simply be copied or abused. Theatre maker and actor Josse De Pauw and writer Saskia Decoster explain why, serenely and in plain language.
The tangible logic of copyright is the perfect bridge to human rights. Our human rights must be respected in the same way that we respect copyright. And that is why Saskia Decoster and Josse De Pauw are launching an appeal to, like them, defend human rights as if you were the author.
AKA De Mensen turned it into two fascinating still lifes on 16mm. A wonderful and noble message of public interest.
---
CREDITS
​Client : Amnesty International
​Contacts : Griet Ryckeboer
​
​Agency : Prophets
​CD : Sam De Win
​Creation : Wouter Huyghe, Ivan Moons
​Account Team : Amber Verberckmoes, Severine Vanoirbeek
​Production Company : AKA De Mensen
​Executive producer: Eline Rousseau
​Producer : Rana Cools
​Director : Charlotte De Cort
​DOP: Kamiel Doens
​Geluid: Neal Willaert
​Montage: Kobe Van Baekel