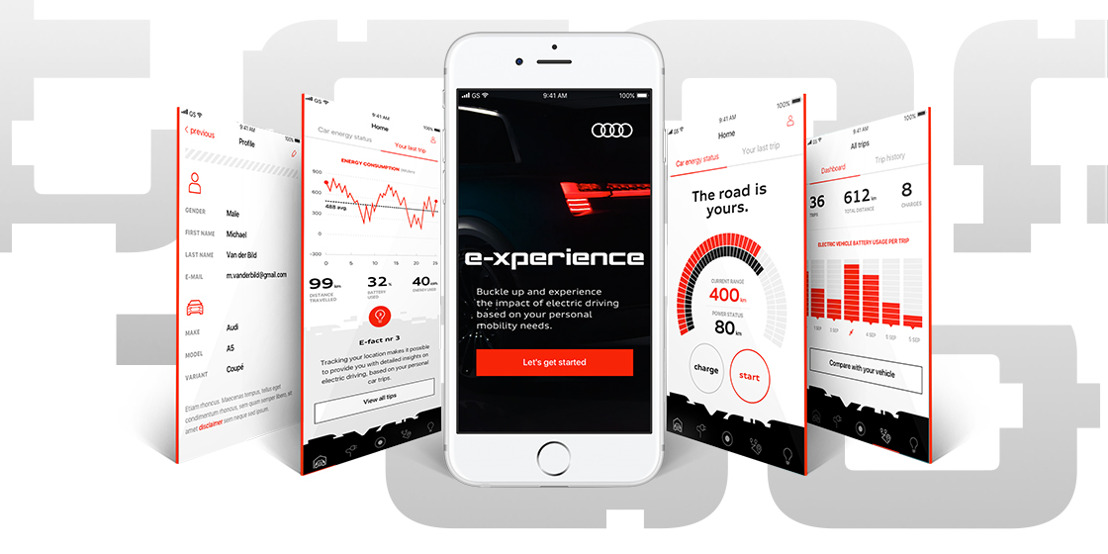 Audi and Prophets invite you for an electric driving e-xperience.
Thursday, July 26, 2018 — Prophets and Audi are launching Audi e-xperience: a groundbreaking app that shows you how electric driving can impact your mobility based on your trips with your traditional fuel car. A well-considered premiere with the launch of the first fully electric Audi just around the corner.
You can't love what you don't know.
An extensive survey revealed that a goodly portion of car drivers still harbour doubts and preconceptions towards electric driving. What is my range with a single charge? When do I need to charge and where can I find a charging station? And most of all: is it cheaper? A host of questions that make people think twice about the purchase of an electric car.
Virtual experience
The Audi e-xperience app gives an adequate answer to all of those questions. The smartphone application for Android and iOS simulates very accurately what electric driving can mean to you while you continue to drive your traditional fuel car. After every trip the app uses your speed, acceleration and distance covered to calculate how much electrical energy you'd use with an electric car, how much energy you need for a trip, what the status is of your virtual battery, etc.
Calculate your savings
In addition you can also enter data about your current car: this way the app can tell you how much you would save and by how much your CO2 emissions would be reduced with an electric car. Convincing arguments that will put all your doubts about buying an electric car to rest. The icing on the cake are the many practical tips: just what you need when you know little about electric driving.
Load first, then charge
The Audi e-xperience app that prepares us for more electrical mobility is a first and will be rolled out in several countries. Audi and Prophets hope that the free app will be downloaded en masse and will make people realise that electric driving suits the mobility needs of many drivers. Prophets partner Björn Joos: "With e-xperience we want to get more electric cars on our public roads by better informing people. Those who download our app today may drive their own electric Audi in the future."
Available in Google Play Available in the App Store
Credits:

Client: Audi
Contacts: Mathias Ankaert, Guy Van Mol, Frédéric Hurchon
Agency: Prophets
CD: Sam De Win
Creative Strategist: Björn Joos
Account Team: Jeremy Demoor, Amaury Thomas
Project Manager: Stijn Bonjean
Design: Paul Joly, Frederik Draulans
Development: Tom Bruyneel, Samuel Joos
Copy: Tine Sinnaeve