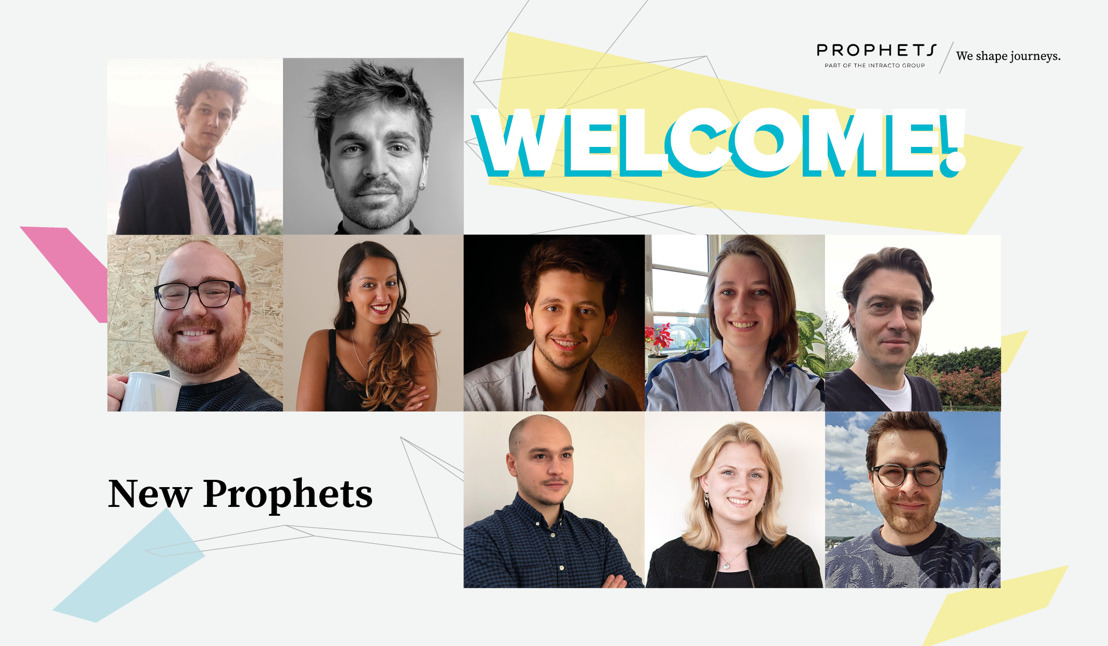 New talent injection at Prophets.
Since this whole situation is taking a lot longer than expected, we've planned a big injection ourselves. Of new talent, that is. That's why we made appointments with people longing for a new sense of freedom. Result: an enormous decline in the number of vacancies at Prophets. 10 new colleagues joined our bubble (mostly from a distance, for the time being).
February 2021
Lucas Ventura – Project manager
​We've heard that Lucas gets extremely nervous when his smartphone has a poor network connection. Miraculously, he has been relieved of this since he has signed with Prophets. We offered him a subscription with the best provider in Belgium. Everybody happy.
March 2021
Felix Dumitrascu – Back-end developer
​What do you get when you're skilled at both shaking cocktails and building websites? You pour liters of code as if it's nothing. And Felix does that like the best. By the way, the fine print of his contract states that he is obligated to tend bar at future Prophets parties (sorry, Felix!).
Claire Eyberg - Account executive
​Claire (ex-Havas Brussels) is always in for a great party. In the old days, that is. While waiting for better times, she provides briefings that immediately kick-start the creative groove.
Anouchka Hendrickx – Account manager
​You immediately get Anouchka on the dance floor when she hears the sound of the fifties and sixties. She gained plenty of experience at Plan.Net (Serviceplan) and Your Agency (Emakina Group)… and now she's completely in cruise control at Prophets.
Maxime Andrien – Creative
​Maxime (ex-TBWA, BBDO, Publicis) is convinced that he makes better coffee than the brew from our machine. For this, he roasts his own beans at home. Fine, Maxime! You have been appointed Chief Creative Barista in charge for the entire office in Brussels. The briefing will follow shortly.
April 2021

​Frederik Maes – Senior copywriter
​Frederik (ex-Air, Wunderman Thompson) likes his coffee strong, with just a little bit of milk. As a boy from the coast, he had a romantic view of life at sea. Until he was completely knocked out during a fishing trip. Then he became a copywriter. Fortunately, he's better at writing than at fishing.
May 2021

​Lucas Englebert – Project manager
​We're not sure yet if Lucas (ex-Niboo, Idweaver, Whitefox Agency) is keen on catching a mackerel. However, we do know that he's hooked on doing website projects. That's why we hired him as our new project manager. Go and catch them, Lucas!
Nisrine Dribi – Account executive
​We had to promise Nisrine (ex-Parfums Christian Dior, Louis Vuitton) that we will not organize a team building on a fishing boat. We're still in doubt. On the other hand, we're very convinced of our choice for Nisrine as our enthusiastic new account executive.
Korhan Kale - Senior back-end developer ​
​Speaking of a team building... now that the corona measures are easing, it's time to think about it. Korhan (ex-Emakina, Idweaver) is lucky: he won't have to wait as long as the other newbees. But that is of course the advantage if you arrive as one of the last.
Theodoros Suliotis - Senior back-end developer ​
​For Theodoros (ex-Emakina, Idweaver), the team building will also come in handy. In the meantime, so many colleagues have already joined, how else do you keep them all apart? It seems that Theodoros is quite easy to recognize: he always wears a cap.