Prophets and Audi make cars evaporate for car-free Sunday
If you visited Audi.be last Sunday you probably noticed something unusual. For once there wasn't a single car in sight on the homepage. A remarkable stunt to put car-free Sunday in the spotlight. As a champion of sustainable mobility, the brand with the four rings was happy to support the campaign to reduce CO2 emissions.
On car-free Sunday, 20 September, the Audi.be homepage featured pictures of empty streets. The luxury vehicles of the brand with the four rings that usually steal the show, were literally out of the picture for once.
A car brand promoting a campaign to … use your car less often? You might think that's a bit odd. But in truth, it dovetails perfectly with Audi's vision of sustainability. After all, it's not about banning cars. It is about using them wisely. Audi aspires to CO2-neutral mobility and wants to launch more than 30 fully electric models by 2025 – or 40% in terms of market share.
But there's more. Audi doesn't simply want to develop electric cars: its cars must be CO2 neutral across the board, from production to everyday use. Moreover, Audi is on a clear mission to become entirely CO2 neutral by 2050. Incidentally, at the Brussels plant, home to the Audi e-tron, production is already almost completely CO2 neutral.
And the brand is also focusing on recycling. Think car seat upholstery from recycled PET bottles, a closed loop for batteries and aluminium, ... In short, the message is clear: owning a car doesn't give you permission to lapse into unsustainable behaviour.
Feel free to leave your car in the garage for short trips and use your bicycle or electric scooter instead (Audi is launching one of those as well: the Audi e-tron scooter). And maybe take advantage of car-free Sunday to give your car a thorough wash.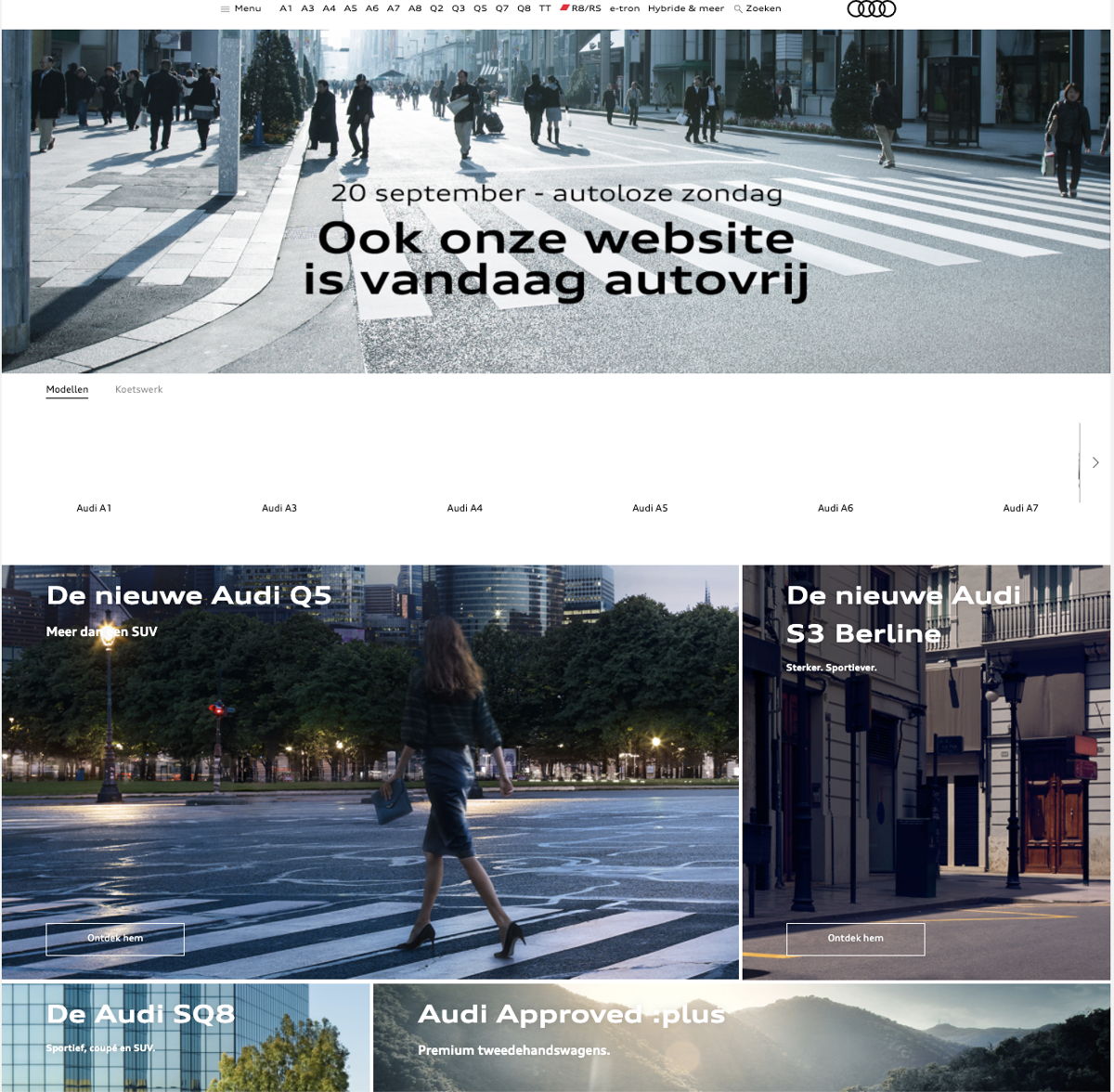 ---
Credits:
Client: Audi
​Contacts: Stef Sleurs
​Agency: Prophets
​Strategy: Bram Cappaert
​CD: Sam De Win
​Creative: Adnan Chehima
​Account: Nathalie Vergught
​Technical Director: Kris Van Hauwermeiren
​Production: Mike Veeckmans