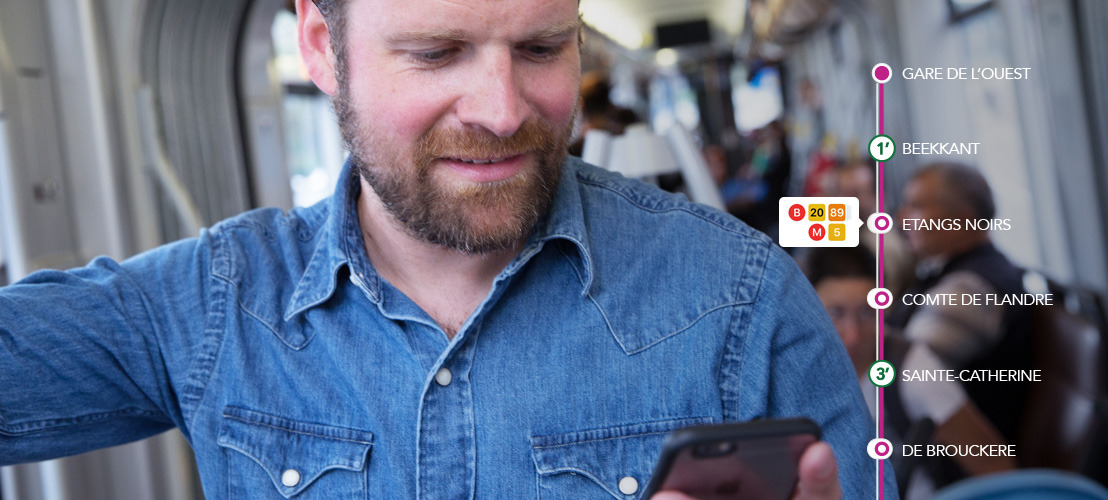 Prophets and MIVB launch a new app
Public transport is a key part of Brussels' transport infrastructure. That is why the brand-new app by MIVB, the transport company in Brussels, is a must-have for reaching your destination even more effortlessly than ever before.
To create this app, MIVB collaborated with Prophets. The agency especially worked on the strategic aspects, the design and the front-end development.
From October on, commuters in Brussels have the new MIVB app at their disposal. This new version does not just entail an update from the previous app, but is a completely new one for a broader audience. The previous app was mainly used by passengers that use MIVB's services frequently and required an advanced understanding of the MIVB network, while the new one first and foremost meets the needs of people who use public transport less often.
Furthermore, the new app contains more functions. The UX design mostly revolves around the integrated route planner that maps your journey using geolocation. The app also provides passengers with real-time information, entirely tailored to the user (which lines to take, the waiting times…). On the app, users can create their own account. Through this account, they receive a personalised service, tailored to their mobility habits.
For the strategic outlines, MIVB counted on Prophets' expertise in UX, design and front-end development. Meanwhile, MIVB itself took on the back-end development and ensured the data sources.
The new app is a big step in the right direction: for MIVB it is the starting point to further develop its digital strategy. In years to come, there still are additional in-app functions and optimisations planned. In doing so, MIVB aims to meet the ever-changing needs of its mobile target audience more quickly.
The new MIVB app is available in the App Store and in the Google Play Store.