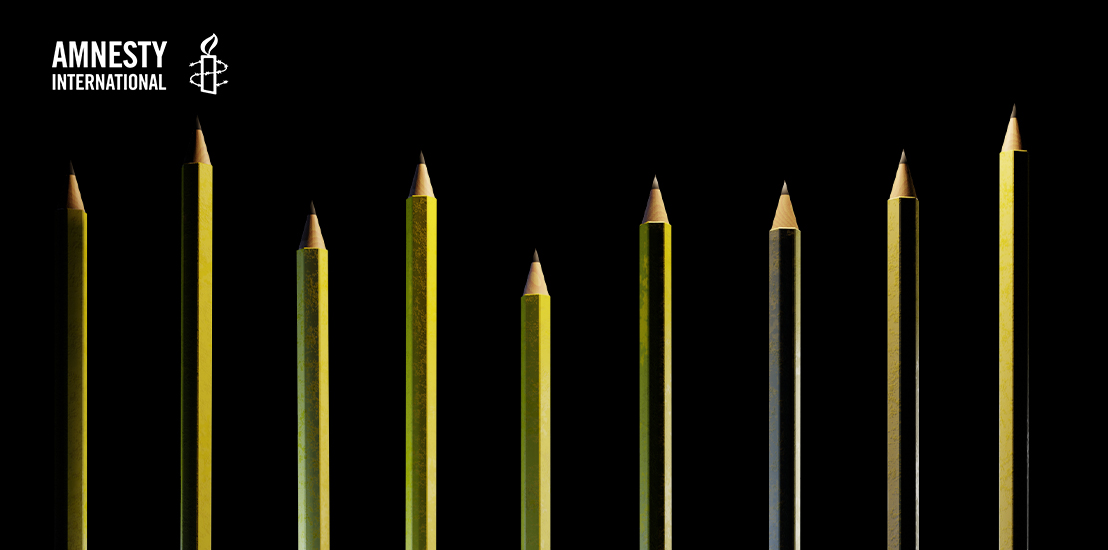 Prophets battles injustice with Amnesty International
Sentenced to death at age 15. Abused by police for no reason. Thrown behind bars for holding the wrong beliefs. Many countries still have a ways to go where human rights are concerned. Amnesty International enlisted the help of Prophets in focusing public attention on this injustice. You may have come across the result in Brussels on 10 December - International Human Rights Day.
For many years now Amnesty International has organised a letter-writing marathon in the month of December. Goal: writing millions of cards and letters worldwide to demand justice for victims of human rights violations. Amnesty conducts thorough research in advance and then selects ten cases in which the Letter-Writing Marathon can actually make a difference.
Amnesty uses the Letter-Writing Marathon to pressure those in power into treating their civilians better. These campaigns often yield positive results but of course... this can only happen if a sufficient number of people write letters and cards. So everything starts with making sure that the general public notices the Amnesty stand and this time the organisers entrusted Prophets with this task. The action that went live on 10 December was almost impossible to miss.
On the side of the Crowne Plaza near Rogier Square, right next to the busy Brussels-North train station, a gigantic projection commanded attention. The faces of this year's Letter-Writing Marathon appeared behind symbolic bars made of pencils, which slowly dissolved. Because the more people write, the bigger the odds that their denunciation of injustice is heard. And the bigger the odds that something is done about it. That is why the accompanying appeal is so appropriate: 'Write a letter, change a life.'
Not far from the projection, at the zebra crossing near metro station Rogier, Amnesty set up a stand where passers-by were invited to support the actions of the Letter-Writing Marathon. You, too, have until the end of December to contribute.
And Prophets themselves? Needless to say, they're writing along en masse.
---
Credits
Client: Amnesty International Vlaanderen
​Contacts: Bert Maes & Danielle Hennaert
​
​Agency: Prophets
​Creative Director: Sam De Win
​Creative: Ivan Moons, Wouter Huyghe, Chani Fajka
​Motion: Griffin Peeters
​Projectie: Beam Inc
​Account: Severine Vanoirbeek