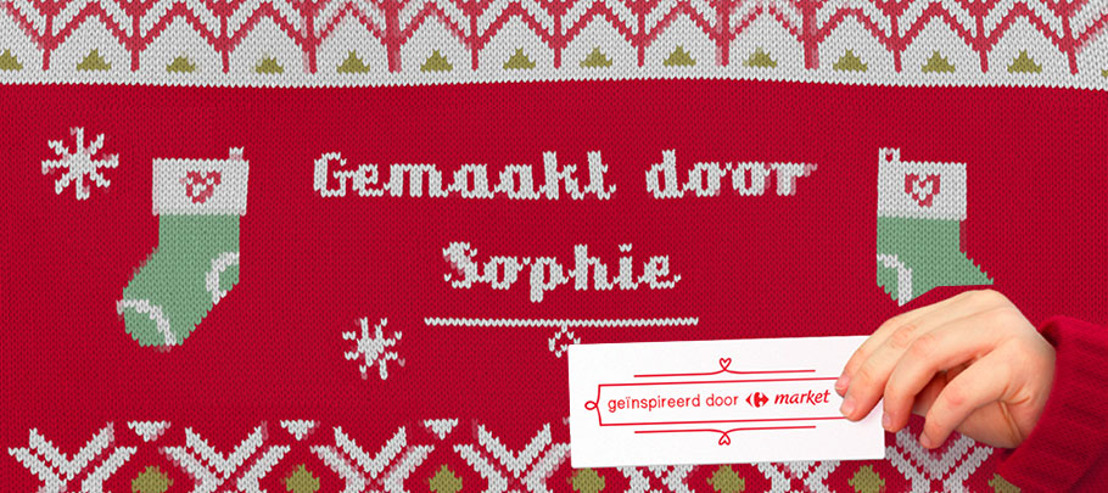 Prophets creates animated Christmas jumper for Carrefour market
Wednesday, December 21, 2016 — All unforgettable parties have 2 essential things in common: excellent company and delicious food. Precisely the two things that Prophets is pulling out of the bag on Carrefour market's festive end-of-year website.
If you want to surprise your friends or family after an unforgettable 2016, simply send them Carrefour market's animated greeting card by email or on Facebook. The animation – a Prophets technological achievement – will show your own personalised New Year's message as a moving knitting pattern on cheesy Christmas jumper.
Expert knitting lingo
Samuel Joos, Prophets Lead Developer and knitting expert: "The animation on our Christmas jumper was made entirely in HTML5. We achieved the traditional knitted effect with a number of pixel shaders, similar to how an Instagram filter works."
Delicious inspiration
In addition to the knitting feature, the festive Carrefour market website www.onvergetelijkefeesten.be also offers a food section with loads of inspiring content: festive recipes paired with the perfect wine and videos on how to present your dish in a delicious way.
Extra surprise
Carrefour also had a surprise in store for customers who had sent the animated ecard before the 18th of September. They got a chance to win a Fuji Film Polaroid to capture their unforgettable festive moments in pictures. So this week, 50 lucky ones will find this Instax camera underneath their Christmas tree.
You can send your own personal greeting card until 1 January at www.onvergetelijkefeesten.be/video/intro.