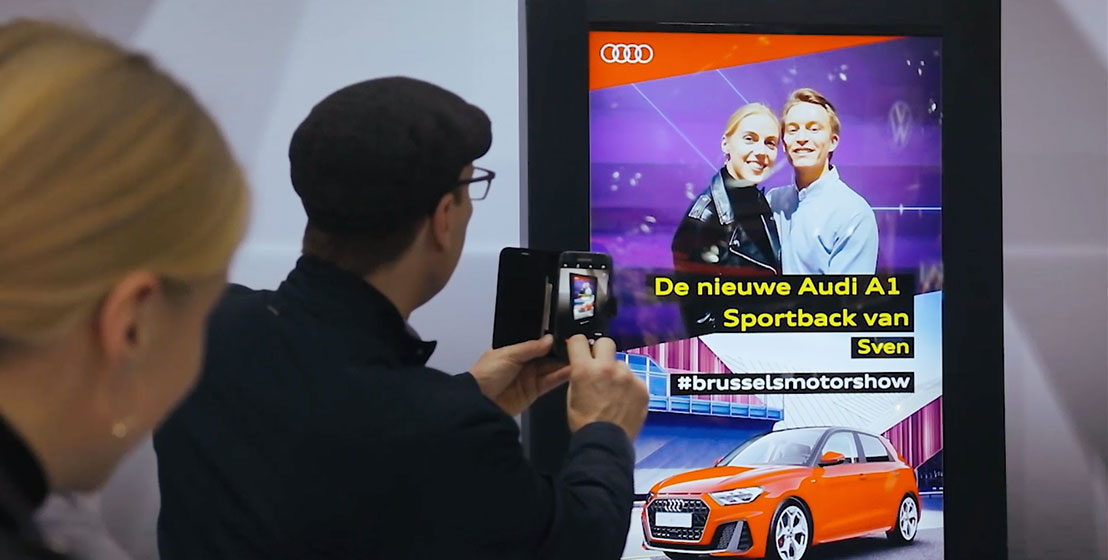 Prophets launches epic activation for Audi A1 Sportback.
The new Audi A1 Sportback is not an ordinary car. Why? Interior and design are fully tailored to the driver. So who can you best depict on your campaign image? Right … Prophets and Audi asked potential buyers and visitors at the Brussels Motor Show to configure their dreamed-of Audi A1 Sportback and afterwards to get their picture taken.
No mysterious Stig or anonymous hostesses who promote the new Audi A1 Sportback, but real-life visitors to the Brussels Motor Show. No fewer than 451 Audi fans configured this spirited urban model, whereby they could choose from 4 body colours and 2 roof colours and rims. Then they posed for the camera at the Audi stand, and those who wished to do so also appeared once again with their personalised Sportback model in real time on Clearchannel billboards throughout Belgium. ​ ​
​

​The fans could also show off the Audi of their dreams on Facebook with the hashtag #brusselsmotorshow. That earned Audi and Prophets a lot of shares and likes. Sam De Win, creative director at Prophets: "An extraordinary Audi with a very personal look calls for a personal campaign image. So we simply got our target group involved. Whatever style you might have, there´s always an Audi A1 Sportback that´s perfect for you."
​
---

​Client: Audi
​
Contacts: Guy Van Mol, Marie Carranza, Stef Sleurs
​

​Agency: Prophets
​
Creative Director: Sam De Win
​
Copywriter: Wouter Huyghe, Thomas Vandenhouten
​
Art Director: Jean François Dooms
​
Accounts: Nathalie Rots, Amaury Thomas
​
Strategy: Daan Richard, Tom Willemkens
​
Designer: Micha Symoens
​
Desktop publisher: Hervé Pinte
​
Data analyst: Menno Bosma
​
Digital team: Stijn Bonjean, Kris Van Hauwermeiren
​
UX Designer: Joe Smith
​
Web designer: Steve Saelens
​
Developers: Tom Bruyneel, Samuel Joos
​