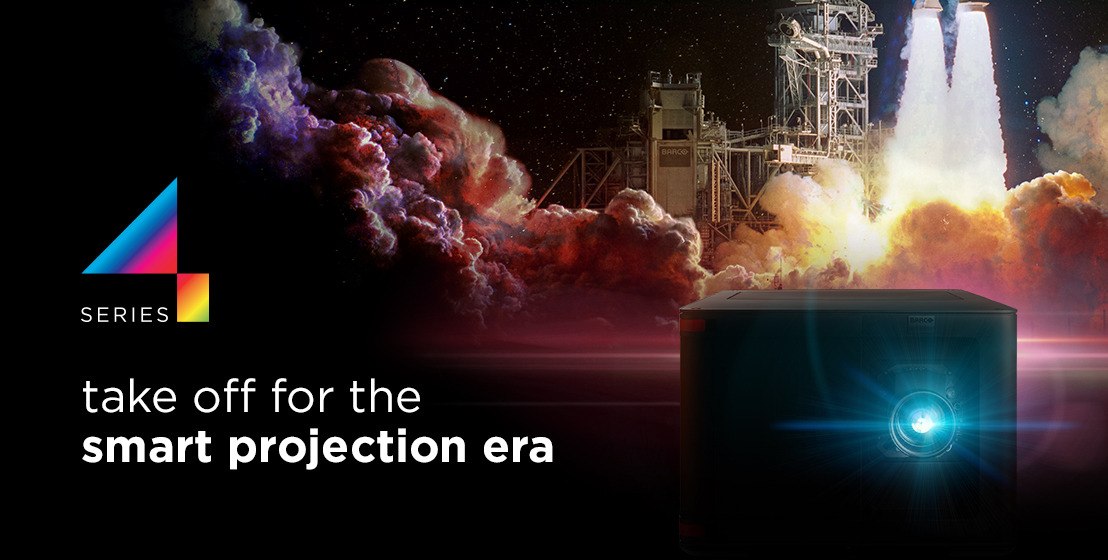 Prophets puts the spotlight on Cinionic
Launching a new generation of laser projectors for cinemas worldwide... where do you start? Cinionic enlisted the help of Prophets. The international joint venture brings brand-new technology to cinema audiences with the Barco Series 4. A major leap forward that calls for an extensive communication campaign.
Prophets put Cinionic's major leap forward in the spotlight with a communication platform that encompasses the various carriers in a coherent fashion: from a new logo, key visuals and baseline for the Barco Series 4 to the website, brochures, social banners, video, gadgets and event support. Philosophy: a smart step forward.
Pioneering technology
An emphatic nod to the legendary words of Neil Armstrong after the moon landing. After all, this new generation of laser projectors is just as trailblazing for the movie industry. Yep: "It's one small step for cinema, one giant leap for the audience", Cinionic claims.
​
Launch in Las Vegas
The campaign kick-off? A launch event at CinemaCon 2019 in Las Vegas. Curious spectators got to discover the Barco Series 4 up close thanks to, amongst others, live demonstrations and an virtual experience. For those who wanted to know what else the future of cinema has in store, there were numerous panel discussions and tech talks with entertainment industry experts.
Mission accomplished? CMO Carl Rijsbrack: "I think we'll attract a great deal of attention. We're writing history here. This technology will change the future of cinema."
About Cinionic
Founded in 2018 as a cinema joint venture between Barco, CGS, and ALPD, Cinionic unites global leaders committed to creating a new visual standard and moving the cinema industry forward. Cinionic's enhanced services and technology solutions provide compelling cinema experiences for today, future-proofed for tomorrow. The company's world-class technology portfolio includes award-winning laser projectors, HDR, integrated media servers, and premium cinema experiences, among other innovations.
With more than 85,000 projectors installed globally, Cinionic is trusted by more than 200 exhibitors to help capture audiences at multiple touchpoints in their cinema journey and keep them coming back for more. Today, more than half of the world's movie theaters are illuminated by Cinionic.
Cinionic has offices in Belgium, United States, Hong Kong, and Mexico. Visit www.cinionic.com and follow us onTwitter, LinkedIn, Facebook or YouTube for more information.
Credits
Client: Cinionic
​Campaign manager: Carl Rijsbrack
​Contacts: Charlotte Van Iseghem, Jelle Deconinck
Agency: Prophets
​Creative Director: Sam De Win
​Copywriter: Christine Mes
​Art Director: Paul Joly
​Account: Véronique Lemmens, Véronique Beutels, Florent De Deken
​Strategy: Tom Willemkens
​Designer: Micha Symoens
​Motion designer: Dorien Bradt, Pieter Dombret
​Desktop publisher: Hervé Pinte
​Data analyst: Leen Holsbeek, Menno Bosma, Gert Hauben
​Digital team: Fabian Deneux
​UX Designer: Joe Smith
​Developer: Valentijn Steenhoudt