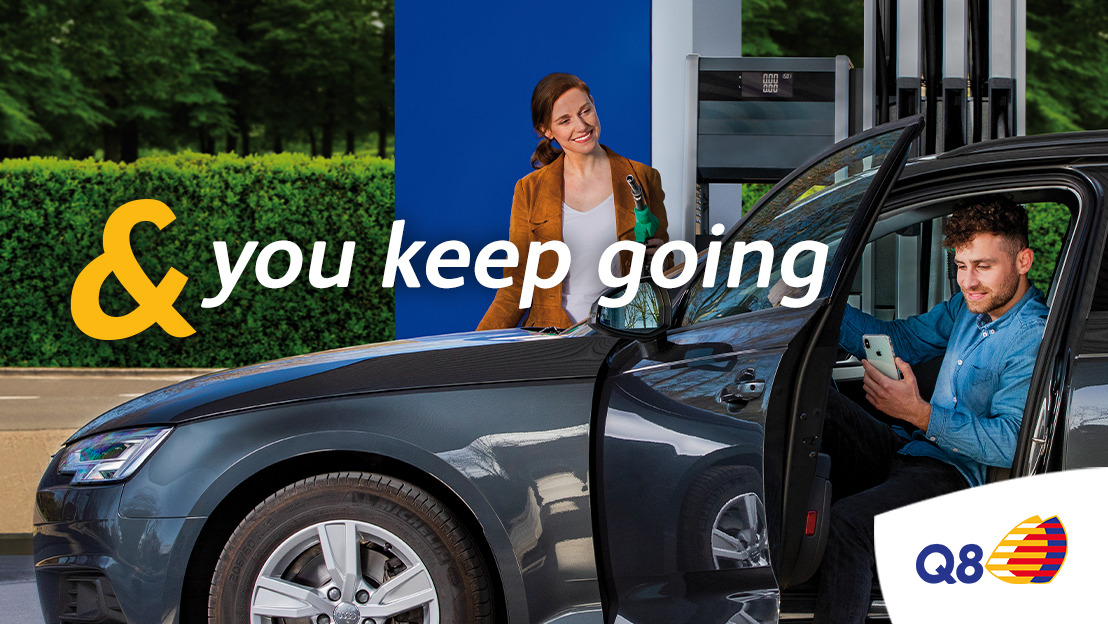 Q8 and Prophets keep you going
Q8 is a household name when it comes to topping up your tank and your own energy levels. Some things don't change. But at the same time things are changing at Q8 because Q8 evolves in sync with new mobility trends. In addition to petrol and diesel, several Q8 stations are already equipped with EV charging points and lots more. Communications on the makeover are in the capable hands of Prophets.
It is Q8's ambition to develop into a sustainable mobility player. Naturally consumers will still be able to top up on petrol and diesel and buy a snack or coffee in the shops but Q8 stations will also increasingly cater to EVs with the rollout of charging points in Belgium and the Netherlands in cooperation with partner networks. The Q8 electric app not only gives you a map with a transparent overview of all charging points of those charging networks, you can also pay for your top-up and check your charging history.
Moreover, Q8 is expanding its offer with new services. For instance, the mobile Q8 smiles app of the eponymous loyalty programme makes it easy and safe to pay at the pump. Now the offer even includes roadside assistance. Thanks to a free app you always have access to on-the-go assistance, no subscription charges and no fuss.
To highlight that wider brand positioning, Q8 is launching the new baseline &you keep going, a corresponding new sound branding, a catchy radio spot, a digital campaign and POS communication.
Because that is Q8: refuel, recharge, pay conveniently and get a tasty snack! Today and tomorrow. In short, Q8 is increasingly becoming the mobility player for all those who want to keep going.
---
Credits
Client: Q8
​Client Team: Joke Sterckx, Filip Willems, Nina De Keyser
​Creative Director: Sam De Win
​Creative Team: Ivan Moons, Wouter Huyghe, Fabio Angelo Cipriano, Elias Dewulf
​Design: Grigoli Kopaliani
​Strategy Team: Bram Cappaert
​Account Team: Gill Otte, Véronique Lemmens
​Radio Production: Raygun