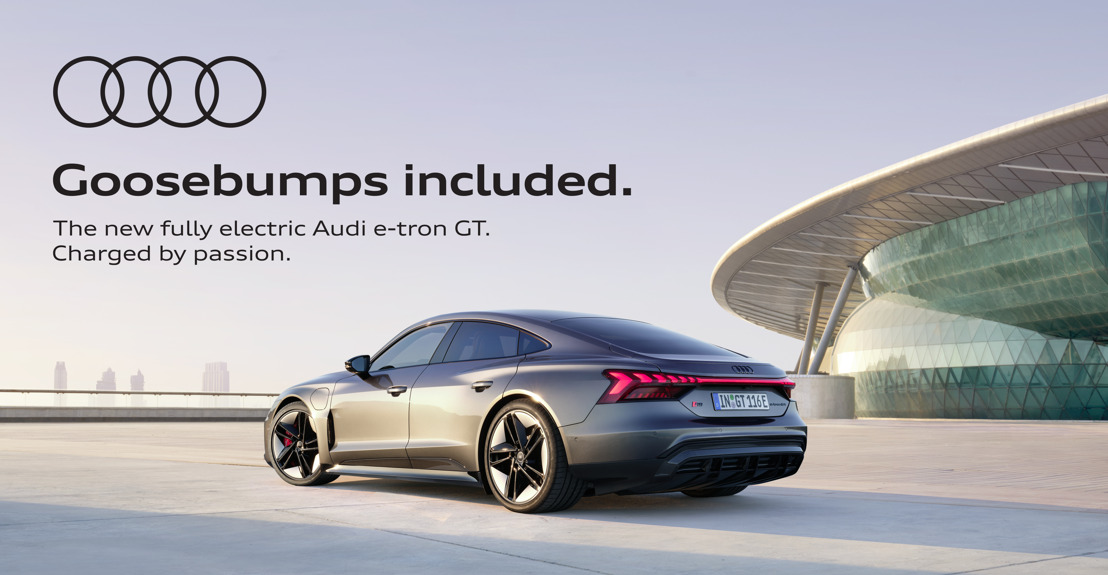 Something New for Audi and GOOSE
Audi and the Belgian electro-rock band GOOSE keep working together.
New project about the shared vision on progress and experimentation.
"Something New", the new album and title track by GOOSE, becomes the soundtrack for the Audi e-tron GT's new national campaign (television and online).
Brussels, 19 April 2021 - For the Belgian launch of its first 100% electric sports car - the Audi e-tron GT - Audi Belgium has decided to collaborate with GOOSE, the famous Belgian electro-rock band. The title track from their new album "Something New" is integrated in a new national campaign.
Audi keeps innovating and thinking ahead: the e-tron GT represents the premium car manufacturer's vision on the future of 100% electric mobility. A future which is powerful, exciting and durable.
Mickael Karkousse, Dave Martijn, Tom Coghe and Bert Libeert - GOOSE's enthusiastic band members and Audi ambassadors - share the Audi e-tron GT's values: striving for innovation, high performance and especially the importance of experimentation. Something which has been part of the band's DNA since the very beginning.
For a previous project, the band entered the studio with the Audi R8 Coupé V10 plus, for a recording session that was just … thrilling. This resulted in "Circles", a track featuring the V10 engine as an extra band member, which was released on vinyl in a limited edition.
Today, the band works together with Audi once again, on the occasion of the new album "Something New". This time, an experimental session featuring the Audi e-tron GT takes place. Discover the result online and on tv soon. It's guaranteed to give you GOOSEbumps.
---
Credits
Client : Audi
​Contacts : Mathias Ankaert, Sofie Luyckx
Agency : Prophets
​Creative Director : Sam De Win
​Creation : Ivan Moons, Wouter Huyghe, Micha Symoens
​Motion design: Laurens Maes
​Strategy : Bram Cappaert
​Account Team : Nathalie Rots, Claire Eyberg
​Production: GOOSE, Raygun