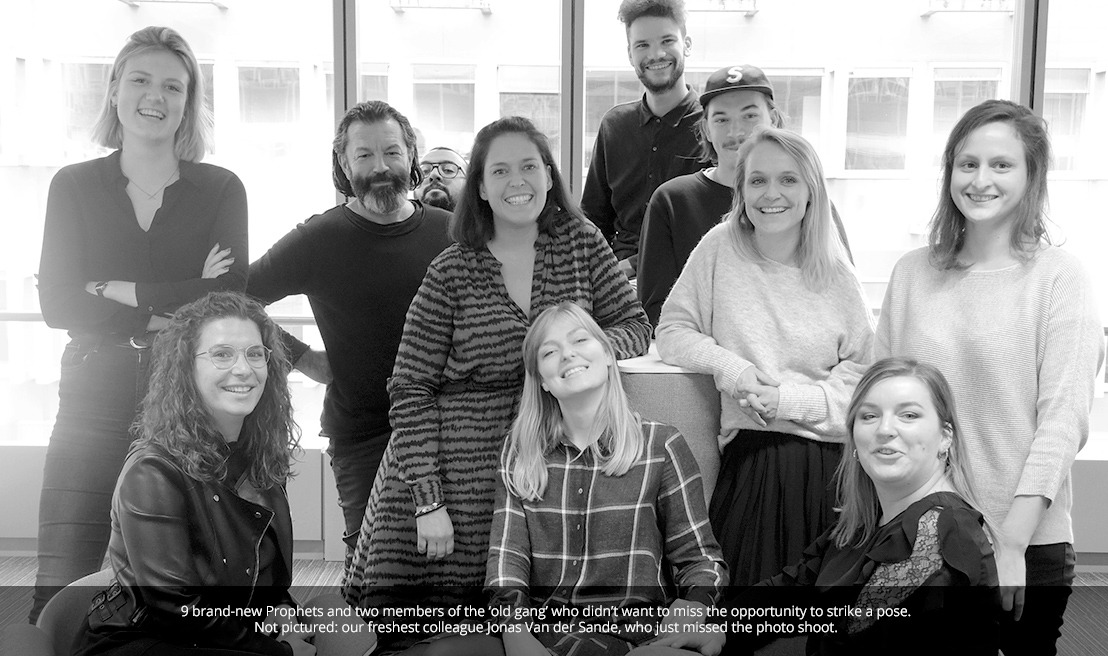 Warning: force 10 talent storm at Prophets
The last few months at Prophets have been all about growth. Our company grew quite a bit, thanks to a new digital alliance with the Intracto Group and a steady stream of new colleagues joining our team. The current count: 10 brand new talents, whose mission it will be to – as always – help our clients grow.
Our creative team in Brussels boasts the biggest expansion. It all began with Fé Riské, who let in a breath of fresh spring air when he stepped out of the elevator mid-May. There must have been something in the air alright, as only a few weeks later, Sophie Oome (creative, Proximus), Alisia Van Genechten (design, Proximus) and Ine Beertens (creative, allround) blew through the door. Nicolas Van Gucht (creative copy, allround), who earned his stripes at Ogilvy Social.Lab and BBDO, completed the picture.
Of course, you need people there to brief all those creatives, so that's where Carole Frederiq (ex-Big Smile) came in as Account Manager for Proximus and SEAT. Braving Brussels morning traffic as well, is Ena Stevens (ex-Wunderman Thompson), as Account Manager for Audi.
As there's now not a single empty chair left in Brussels, we're lucky there's still some space in Antwerp to accommodate new colleagues, since the talent just keeps pouring in. There's Amber Verberckmoes (ex-Happiness), keeping things flowing as an Account Manager for Port of Antwerp and Michelle Defooz (ex-Wunderman Thompson) to think up strong strategies for our clients. After all, there's not much use for creativity and great client relations without a solid plan.
So hot off the press he didn't even make it in time for our photo shoot, is Jonas Van der Sande (ex-Wunderman Thompson), who'll be proving himself worthy as our newest Web Designer/Front-end Developer.
There you have it. Ten top talents. How can they help you grow?